Lundin Group
---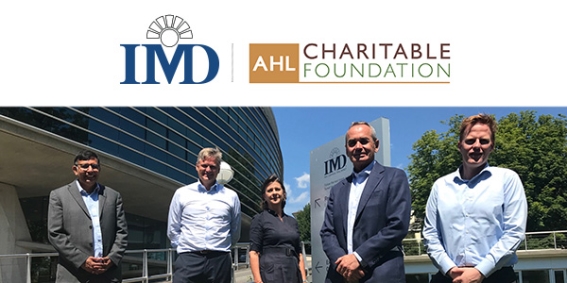 Business is embracing systemic change as it becomes a driving force in the global solution for sustainability, says Institute for Management Development - IMD
Lausanne, Switzerland 27 July 2020 - IMD and the Lundin family, represented by the Adolf H. Lundin Charitable Foundation, are pleased to announce the appointment of Knut Haanaes to the Lundin Sustainability Chair. The renewal of the Lundin family's multi-million CHF endowment marks a shared dedication to "smart sustainability" – and the recognition that this is an integral part business strategy.
This important partnership aims to ensure sustainability is enshrined in business practices; companies are already finding that focusing on profit only is no longer acceptable.
The initiative is one of many that IMD is developing as the institution makes strides toward putting sustainability at the forefront of its agenda. As a leading global academic institute in a rapidly changing environment, IMD develops leaders who build successful businesses that also make a positive impact on society and our planet.
Professor Haanaes said: "The Lundin Chair is leading in the next frontier of sustainability, in which companies create shared value and tackle global challenges – especially addressing climate change – by using natural resources in much smarter and more efficient ways. Increasingly, investors take sustainability into account; consider the rise in Environmental, Social and Governance (ESG) reporting. Customers, too, are rapidly getting into the game."
First created in 2004, the Lundin Sustainability Chair spearheads research and teaching related to the natural resources sector and investigates how challenges and opportunities in this area impact other industries and society as a whole.
By promoting shared values, organizations become part of the solution rather than part of the problem. Whether that is through employing digital solutions like advanced analytics and AI or piquing the interest of investors and shareholders with a responsible business approach, integrating sustainability into the business agenda is the primary goal.
The Lundin family said: "The Lundin family and group of companies have a long-standing commitment to responsible business. We look forward to further our knowledge of sustainability and share it with like-minded business and civil society actors."
About IMD - The Institute for Management Development (IMD) is an independent academic institution with Swiss roots and global reach, founded almost 75 years ago by business leaders for business leaders. Since its creation, IMD has been a pioneering force in developing leaders who transform organizations and contribute to society. Based in Lausanne (Switzerland) and Singapore, IMD has been ranked in the top three of the FT's annual Executive Education Global Ranking for the last nine consecutive years and in the top five for 17 consecutive years. Our MBA and EMBA programs have repeatedly been singled out among the best in Europe and the world.
We believe that this consistency at the forefront of our industry is grounded in IMD's unique approach to creating "Real Learning. Real Impact". Led by an expert and diverse faculty, we strive to be the trusted learning partner of choice for ambitious individuals and organizations worldwide. Challenging what is and inspiring what could be.
About Adolf H. Lundin Charitable Foundation - Established in 2007, the Adolf H. Lundin Charitable Foundation began its work in Sub-Saharan Africa making grants and charitable donations supporting poverty alleviation and education programs. In 2010, the Foundation revised its strategy to focus on the then nascent field of impact investing – providing financial and technical support to Small and Medium Enterprises which form the backbone of developing economies. The concept is to help established SMEs to grow their business and be fully sustainable thereby providing job security as well as important services to the low-income portion of society. The areas of the economy being targeted are food security as well as access to financial services and energy access. The mission is also to instil good environmental, social and governance (ESG) and gender inclusion, in the companies that are part of the portfolio. This strategy aligned with the vision of the Foundation's patron, Swedish entrepreneur and business leader, Adolf H. Lundin.
Note to editors
Media Contact/Interviews:
Lucy Jay-Kennedy

IMD, Head of Media Relations & Internal Communications

Tel: +41 21 618 0811

communications@imd.org

Christine Batruch

Lundin Energy SA, Senior Strategic Advisor

Tel: + 41 22 5951030

christine.batruch@lundin-energy.com
Return Home